Flavor
Pure Luck® - Pure Kombucha™begins with the finest teas and medicinal herbs, hand brewed with mountain spring water, drawing on inspiration from tradition, and honoring ceremonial technique. We ferment every batch in glass and offer a magically crafted, energetic, happiness potion in each 4 oz. bottle designed to be the perfect amount of living, rich, Pure Kombucha™ - unfiltered, naturally carbonated, naturally caffeinated, non-GMO, gluten free & low sugar with NO ADDED JUICES or FLAVORS
Better Than Cola Kombucha
Dried red wine grape skins, blackberries, raspberries, lavender flowers, grade B maple syrup with ancient Pu-erh tea – A sun-dried green tea sought after for its strong energy. Caffeinated, malty and sour with notes of plum, caramel and honey-bourbon. VEGAN
Chocolate Mint Cookie Kombucha
Green tea, cacao nibs, peppermint – Did someone order a dessert kombucha? Ummmmmmm… Yeaa! We did! Go ahead, open happiness!
Silver Jasmine Kombucha
Blended from the finest grades of white needle and green jasmine teas fermented with a kiss of honey. Notes of crisp green grape and enlightening jasmine are followed by a refreshing dryness…. Jasmine Champagne Kombucha
Cinnamon Plum Kombucha
Black currants, biodynamic darjeeling tea, cinnamon, hibiscus – Relax and "Take Your Time Machine," one sip and you will know why you are being transported down memory lane. *Low in caffeine* VEGAN
Green Dragon Kombucha
Green teas from Japan – Matcha and Sencha – combine for umami, dew melons and honey suckle. Tart, caffeinated, alpha wave, energy boosting, inspiration in a bottle!! VEGAN
Bangkok Detox Spicy Kombucha
Ginger, pu-erh tea, grade B maple syrup, cayenne pepper, Thai chili, lemon – Colds, toxins and hangovers beware when the Master Cleanse and Thailand square off in your mouth the Bangkok Detox is coming for you. VEGAN
Miss Darjeeling Kombucha
Miss Darjeeling is a refined miss of biodynamic origin. Her bushes grow on the last family owned estate in Darjeeling, India. Miss Darjeeling's biodynamic upbringing creates "peak" flavors that blossom into a complex, unique and velvety mouthfeel with her signature Darjeeling aroma.
Mr. Oolong Kombucha
Mr. Oolong is a man of character. A blend of Chinese &Thai oolong teas. He is smooth and delightful upfront, with a mysterious, smokey side revealed in time. VEGAN
Get Lucky
Kombucha School™
The inside scoop on everything kombucha. Take a class with our brewmaster.
You're My Sweet Tart! ;)
Kombucha Kits
SCOBY's, glassware, unique teas, and custom events.
We want you to succeed!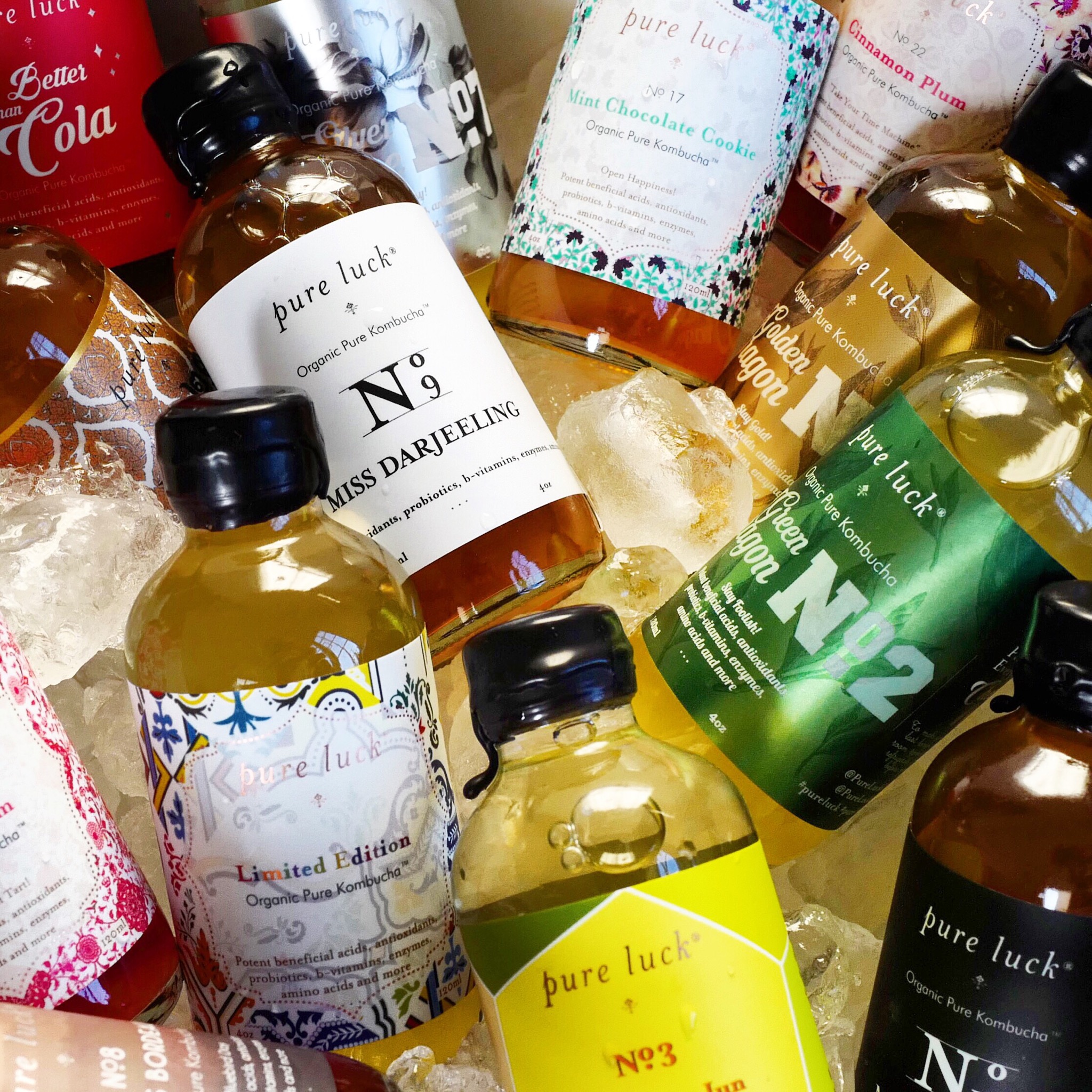 Pure Luck® By The Case
Delivery to your home or office on demand
Fresh Pure Luck® delivered to your door
Kombucha Time
Catering, Weddings, Theater Productions, Boutique Events, Business Development, Flavor Consulting, Exclusive Flavors, Cocktail Mixology, Kombucha Classes, Parties & Private Tutoring
Plan on serving something unique and healthy at your event? Whether you are brewing at home, scaling up to full time or F&B in between. We have the know-how & experience.